Helga Müller | A Fragment (2015)
– A video-text portrait by Sabine Bürger
This video clip shows a 11:28 minute excerpt from Helga Müller (1-channel video, 8 h 47 min)
A 1-channel video, 8 hours 47 minutes (spoken language German, including English subtitles)
Helga Müller embodies Mariposa, an idea and a place conceived in 1984 that she has promoted and built for 25 years jointly with her husband, the gallerist Hans-Jürgen Müller, and which following his death in 2009 she has been running alone.
"Mariposa has always been a project that has asked: What are your ethical standards? Do you want to be a role model for the next generation or are you prepared to sacrifice our future for personal gain?" (Helga Müller)
Helga Müller, installation views Galerie Lisi Hämmerle, Bregenz / Austria, 11 February – 29 March 2017
The video-text project explores the art historical tradition of the portrait through the conventions of new media, that is video, as well as those of conceptual art and specifically its use of textual and documentary material.
The portrait revolves around a series of interviews with Helga Müller. During five conversations, each several hours long, Helga Müller both reflects on and narrates her life, including her successful first career involving encounters with leading German business figures, which ultimately motivated her to become active in the art world, contributing to the writing of a significant chapter in the history of German art.
This record of an (auto)biographical narrative, encompassing almost nine hours of footage, not only allows us to become acquainted with Helga in fragments, but also tests the viewer's capacity to absorb information, demonstrating that, even at such excessive length, a life can only be recounted fragmentarily.
The ephemeral medium of video, more than any other artistic genre, has the capacity to reflect on a fundamental condition of our existence, the passing of time. Helga Müller | A Fragment superimposes multiple temporal levels. In addition to a digital timer embedded in the video, displaying the video's running time in realtime, the date, time and location of the respective interviews are also registered by titling. In conjunction with the periods of time the narrative conjures, beginning in the German post-war era, a complex framework is generated, updating the questions raised by Helga Müller and her project, creating relevance to both the exhibition space and contemporary social issues.
A full transcription of the interviews comprises a further major element of the work. Encompassing some 300 pages of closely typed text, this protocol, which is interspersed with photographs as well as textual and miscellaneous ephemeral documentary materials largely originating from Helga Müller's own archives and presented in a number of ring binders, lends the project an additional (textual) dimension, closely related to the sequences displayed in the video, whereby the video's running time is registered on each page, replacing the conventional system of pagination, so that the viewer is able to alternate between ephemeral moving images and the evidentiary logic of black letters on white paper.
Installation view Städt. Galerie Ostfildern, 2016 | Photo: G. Müller
Past events:
Helga Müller–A Fragment | 4 Dec 2018, 4–6:30 pm | EKfG Workshop Narrating Lives: Biography and Gender | Essen College of Gender Research (EKfG), Duisburg-Essen University (Essen Campus)
Helga Müller–A Fragment | Artist Talk: Tuesday, 6 November 2018, at 7 pm | Baustelle Schaustelle, Birkenstr. 61, 40233 Düsseldorf
Helga Müller–A Fragment | 22–24 November 2017 | as part of the exhibition Cologne's Beginnings as a Global Art City, | EXPONATEC, Int. Trade Fair for Museums, Conservation and Heritage, Cologne
Helga Müller–A Fragment | 20 July–22 October 2017 | as part of the exhibition Cologne's Beginnings as a Global Art City, curated by students from the Kunsthistorisches Institut at the University of Cologne under the supervision of Nadine Oberste-Hetbleck, Junior Professor of Art History and the Art Market, and Günter Herzog, Cologne
Helga Müller–A Fragment | 11 February–25 March 2017 | Galerie Lisi Hämmerle, Bregenz/Austria
Mariposa oder Helga Müller–ein Portrait | 10 July–13 Sept 2016 | Städtische Galerie Ostfildern/Stuttgart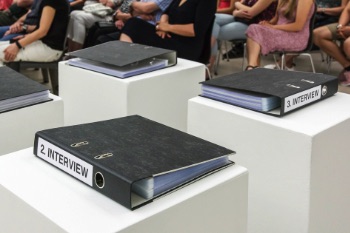 4 ringbinders containing a transcription of all five interviews with Helga Müller (all text in German and English) as well as photographs and additional archival material
Timeline, wall installation