In her photographic works, Sabine Bürger leads us into a kind of fictitious intermediate world, saturated with emotions and morbidity, but also encompassing the dynamics of growth and allusions to metamorphosis. Bodies and faces always take center stage, functioning as an easily graspable constant, a connection to reality. At the same time, however, Sabine Bürger makes it clear that she is hardly concerned with representational fidelity in the imagery, but rather uses identifiable forms as a point of departure for elaborate manipulations and abstractions, the actual objective of her efforts. The bodily motifs on display serve as a malleable primordial mass, as a surface on which emotional reflections are projected, as the key to forbidden gardens of sensuality.
The corporeal presence is no coincidence. Coming from Performance Art, Sabine Bürger is continuing her artistic inquiry by other means, activating the body and capturing the situations photographically in order to create new, complex visions from the resulting ingredients. Photographic works produced in such a way can be viewed from completely differing perspectives. They are primarily photographs, that is, works offering the viewer an instant that becomes fixed. But this level, which we initially comprehend as logical, remains only relevant until we begin asking ourselves what these images actually represent. Faces and bodies are displayed in enigmatic poses, visually dominating a space that is always nebulous. What is striking is that the faces seek virtually no contact with the viewer. These figures are hermetic, almost prenatal. As if formed from a primal substance and in a dormant state or one of development, the faces and bodies drifting in a timeless continuum, with no particular objective or visible purpose.
Fluids unmistakably possess a particular magic for Sabine Bürger. For her corporeal events, she employs them to adorn the bodies, enveloping them in flowing substances that enable an extremely sensual, physical experience to already be present at the very beginning of a lengthy process of creation. Captured with the assistance of photography, Sabine Bürger then uses this imagery as the source material for further stages of work, involving yet more fluids. The culmination is a final image, the result of an interaction between object, fluids, and projection. Despite the complexity of her imagery, Sabine Bürger prefers comparatively simple working methods during the production process. None of the imagery presented here were created as collages or with the assistance of a computer. The individual steps of their metamorphoses occur in the camera itself and/or in the darkroom. This is important insofar as Sabine Bürger is able to precisely control the processes during all the phases of their development and can also deploy chance in a targeted manner.
The present imagery could, of course, also be regarded as documentation of the actions that have been carried out. Through the subsequent processing, however, Sabine Bürger conveys the original information to a new visual dimension. While Actionism, Body Art, and Performance are primarily reliant on the moment of immediate experience, Sabine Bürger creates a more permanent, conceptually structured world of imagery with her works, which can also be repeatedly staged and installed in other places.
expression and enables the pose to appear credible. The correspondences evoked between various fluids and physical sensations as well as the subsequent processing create a seemingly native world of imagery in which the poses and actions are transcribed into descriptions of primal feelings.
Sabine Bürger was born in 1960 in Bielefeld, Germany. She studied at Kunstakademie Düsseldorf, becoming a master student under Günther Uecker. With a DAAD grant she studied at the Royal College of Arts in London from 1986 to 1987. Various working trips in Europe and to the USA followed. Sabine Bürger lives and works as a visual artist in Essen, Germany.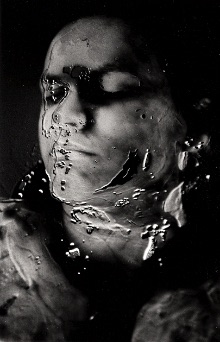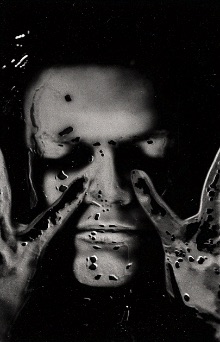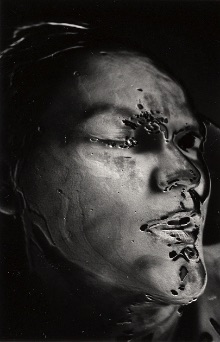 Protoplast (Triptych) (2001) | each 100 x 65 cm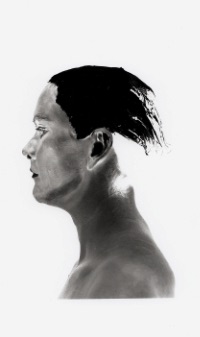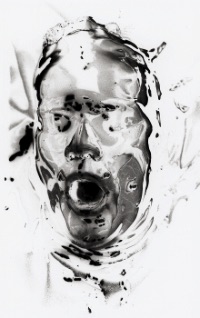 Hydroflux (2000) | series, 110 x 70 cm
Negative Sources (2001) | 50 x 40 cm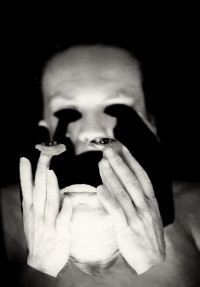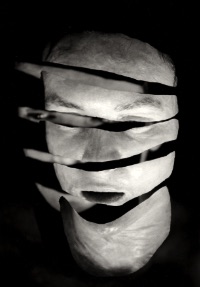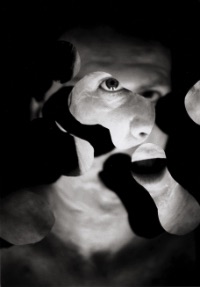 Untitled (1998) | series, each 30 x 24 cm
What remains unmistakable is that the artist is often consciously exploring, in her actions, the limits of what is physically tolerable. As sensual as the experience of the body swathed with different fluids can be, the latent boundary with the unpleasant, even the disgusting, is one that remains in flux. However, it is precisely such an experience that facilitates the authenticity of